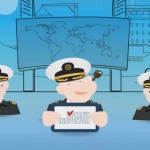 CrewInspector launches self-explanatory video for companies seeking crew management software
Time is money and we value the time of our potential prospects among crewing agencies, ship managers and offshore operators who are investigating the software market possibilities. This is the main reason why we have launched short video explaining core software functionality in less than 2 minutes.
For crewing companies selecting right crew management software vendor might be a time consuming process, by introducing product video we wanted to cut it down as much as possible.
CrewInspector is a product which focuses on solving crew management issues and anticipates on being highly efficient and user friendly tool. We are not selling the software; we sell the results that CrewInspector can deliver. As a company we primarily care if our product can save time and resources or structure the crew data at least for our potential clients.