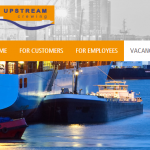 Riga/Bergen op Zoom – Upstream announces that it has officially started to use the CrewInspector crew management software developed by SIA CrewInspector based in Latvia.
After a testing period of two months, we have decided to implement CrewInspector in our organization. It has shown to be a valuable tool for Upstream Crew, both for the personnel as well as for the client side of our crewing business. All details of our crew are registered in the online software and new applicants can register and apply for jobs online via a link on our website.
We register all contracts and payrolling items for the crew within CrewInspector software. Also the client side of the Upstream business is taken care off in CrewInspector. All information on clients and their ships are administered in crewing software.
Soon after the start of Upstream we have found out that in order to keep track of the growing number of crew, ships and clients we needed a professional system. The systems we had initially setup in a excel system showed to be insufficient. We soon discovered that CrewInspector was a perfect solution for Upstream Crew BV. Now with the growth of our organization we are happy to be able to use CrewInspector to allow us to operate our business in an efficient manner, commented Damian Bobinski, Director of Upstream Crew BV.