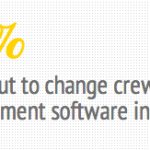 Riga/Latvia – CrewInspector.com crewing software provider conducted an online survey asking companies, which are currently searching the market for a new software, to answer the question "Why they are looking for crew management software".
Survey was conducted among participants from various industry sectors such as crew manning agents, crew recruitment agencies, ship management companies and others involved in crew management operations. Seventy percent (70%) having various reasoning revealed they are about to change their crewing software in near future and thirty nine percent (39%) are exclusively looking for online crew management software.
Survey results as attachments
Crewing Software survey results (PNG)
Crewing Software survey results (PDF)
Majority wants to go online
Thanks to the growing popularity of smartphones, tablets and constant accessibility to the internet, maritime industry sectors understand the benefit of software availability around the clock and being platform independent. Crewing operators are available around clock to support their clients – vessel operators or crew onboard with any demand that may arise. Crew managers expect the same from the software – they want to access the crew data anywhere they go and anytime they need it. Thirty nine percent (39%) of respondents disclosed that they are exclusively looking for online crew management software accessible on the internet. "For the time being it's an end of stand-alone software era for particular industry segments, as there is no real benefit in keeping the crew database software on the office server, since nobody can't access it unless using remote desktop tools and this is where also the speed performance problems arise", explains Andy Lipsberg, Co-Owner of CrewInspector.com.
License is too expensive
Although shipping market is far from the recovery compared to economic growth prior to year 2008, only six percent of respondents disclosed that the current software provider license fee is too expensive and they are looking for alternative and considerably cheaper crewing software options in the market. "This is however a positive trend, we see that companies are not so much concerned about the cost of the software as in most of the cases vendors provide affordable solutions matching the need and the budget of a potential client.", adds Andy Lipsberg.
Outdated software solutions
Software for maritime sector started to develop in late 90ties and early years of 21st century when most of vendors have been established. Since then more than 10 years have passed and if it's a significant timeframe for shipping industry developments, it an enormous breakthrough for IT sector. Having that mind, many vendors haven't been able to keep up to date technologies and according to survey ten percent (10%) consider their current crewing software outdated and unable to cope with current modern technology trends. That of course can have an impact on the business operations as well.
When the business grows
In most of the cases, start-up companies do not heavily invest in software in the first year of operations or even longer until the managers understand that further development requires consistent and structured approach which can not be achieved without having proper crewing software in the office. Fifteen percent of respondents revealed being unable to handle further operations using common tools such as self-made crew databases in MS Excel or similar applications. Based on the experience among CrewInspector customers, crew management software is a must when monthly limit for crew onboard in average is reached at level of 50 seafarers in the merchant shipping industry.
Just exploring the market
Thirty percent (30%) of surveyed revealed that they are not in active search for crew management software as a replacement for their current operations, but are interested to keep up with the market and learn on the trends among various software companies and vendors providing crew manning software.