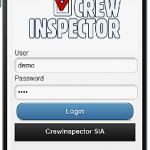 Crewing Software on mobile phones
Latvia based maritime crewing software provider CrewInspector goes step ahead of its competition by releasing an online application specifically tailored for mobile phone and tablets enabling its customers to access its crew management database.
Being always busy, crew managers enjoy being absolutely independent in terms of accessing the crew database from anywhere they go. Since 2003 CrewInspector ship crew management system operates over the internet giving crew manning agents and ship crew management departments freedom for operational tasks while people are travelling, being on vacation or during the night at home.
Crew management software itself is being available on all desktop browsers including most popular ones Internet Explorer, Mozilla Firefox, Google Chrome and Safari.
As of now, having launched tailored crewing solution for mobile phones, crewing agencies; fleet and crew managers within ship management companies can access crew management database through the mobile phone carrier network anywhere as long as there is mobile signal available.
Crewing software for mobile is part of crew management software; however it is specially optimized for mobile phones especially keeping in mind the roaming costs while travelling in different countries and regions. Considering that software is very light and easy to operate, enabling users to call and e-mail seafarers directly from their profile.
By the way, I tried the new mobile version of CrewInspector. Everything is so fast and smooth. I really like it", said Alexander Kovalev director of Seawhale Crewing in Arkhangelsk, Russia.
CrewInspector mobile supports major mobile platforms and internet browsers, being constantly updated: Apple iOS, Android, Windows Phone, Blackberry, Palm WebOS, Firebox Mobile, Chrome for Android, Opera Mobile, Samsung bada, Nokia Symbian.
About CrewInspector.com
CrewInspector.com is an online crew management software provider operating in the maritime market since 2003, based in Riga, Latvia. Crewing software is specially designed for crewing agents, ship owners and managers with rapidly growing client base globally. Software offers full cycle of crew management process and can be simultaneously operated in various locations worldwide without any software installation required. CrewInspector includes seafarer recruitment, crew database, vessel data, certificate management, employment contract management, crew payrolling, cost and wage calculation and customer invoicing. Various alerting systems on document expiry, contracts and birthdays are in place. For more information visit www.crewinspector.com