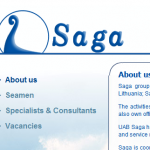 Riga/Klaipeda – Online crew management system provider CrewInspector.com signed an agreement with Saga Agency (Saga UAB) Lithuanian crewing agency to provide its proprietary crew management system.
Following the agreement, Saga Agency will use software as a service for their offices in Klaipeda and Kaliningrad, receiving ongoing crew manager support and also further software development to ensure internal process requirements are met within the crewing software itself. Upon the agreement with Saga Agency, CrewInspector provided online application for new applicants to register their personal data with the potential employer. This is one step forward to eliminate excessive spreadsheets and other documents for maintaining seafarer applications which from now on can be safely kept within the crewing software.
We were about to provide our training to Saga Agency in using the software, but we were positively astonished, how extremely fast their team went on CrewInspector on their own to use the benefits software provides. This is probably our fastest launch ever and one of our first clients being able to use crewing software capabilities within 1 day after using the system. Therefore we are proud on having such professional and motivated companies as Saga Agency among rest of our clients, says Andy Lipsberg, co-owner of CrewInspector.
About CrewInspector.com
CrewInspector.com is online crew management software provider established in 2006, Riga, Latvia. Crewing software is specially designed for crewing agents, ship owners and managers with rapidly growing client base globally. Crew management system provides full crew management process including crew database with comprehensive browsing and search capabilities, contract management, automated document preparation as well as certificate verification against vessel requirements and expiry tracking. For more information visit www.crewinspector.com
About Saga Agency
Saga Agency is a Norwegian managed company and was established in Klaipeda, Lithuania about 20 years back. Today administration office is in Klaipeda, Lithuania and daughter office in Kaliningrad, Russia and cooperating agencies in main Russia and Ukraine. Main activity today is coordinating employment of qualified, English speaking seamen to high standard shipping companies and in this connection the crew management software provided by CrewInspector is fitting perfect in for our purpose. In this connection we like to point out, that quality, service and professional work is our policy and we are happy to have started such quality cooperation with CrewInspector. www.sagaagency.com