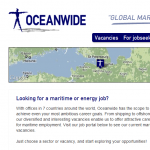 Riga/Vlissingen — Online crew management system provider CrewInspector.com signed an agreement with Oceanwide Crew (Humares B.V.) Dutch crew manning agency to provide its proprietary crew management system.
Agreement between companies stipulates full database migration of 30.000 seafarer applications and related information such as certificates and seagoing service to ensure smooth transition to the new crew management platform. Additionally CrewInspector.com delivered recruitment tool with automated functionality to register new vacancies, allocate and offer right seafarers to Oceanwide Crew clients and vessel owners directly from the system.
Further to the agreement CrewInspector.com will provide tailored development of expense controlling, invoicing tool and integration into the payroll program as well as integrating rest of Oceanwide offices based in Cyprus, Philippines, Russia, Singapore and United States of America.
"We are proud to enter the Dutch maritime market with one of the key players in the Netherlands among our client list. The Netherlands historically is known as very important link within maritime industry maintaining high standards on crew management as well. Meeting customer expectations in such demanding market strengthens confidence in viability of our business model and the software we market", said Andy Lipsberg co-owner of CrewInspector.com
After an extensive review of different crew management software which is available in the market we have chose CrewInspector.com as our partner. The proven software they provide and the flexibility of their staff to meet our requirements makes CrewInspector.com the best choice. With this new crew management system we make further steps in the growth and professionalization of our company", said Theo Nieboer, Managing Director Oceanwide Netherlands.
About CrewInspector.com
CrewInspector.com is online crew management software provider established in 2006, Riga, Latvia. Crewing software is specially designed for crewing agents, ship owners and managers with rapidly growing client base globally. Crew management system provides full crew management process including crew database with comprehensive browsing and search capabilities, contract management, automated document preparation as well as certificate verification against vessel requirements and expiry tracking. For more information visit www.crewinspector.com
About Oceanwide Crew
The history of Oceanwide dates back to 1976 when the first office was established in Vlissingen, The Netherlands. Throughout the years Oceanwide has been recognized as a worldwide supplier of qualified crew. Oceanwide is active in all major maritime countries with offices in Australia, Cyprus, The Netherlands, Philippines, Russia, Singapore and the United States of America. Our employment concepts cover all aspects of crewing for the entire Shipping and Offshore / Energy Industry. From crew selection to contract writing, Oceanwide is capable of full crew management or single person placements. For more information visit www.oceanwidecrew.com